Need instant traffic? Pay-per-click advertising is the fastest way to gain targeted visitors to your website
Paid advertising is a great way to generate fast traffic. We can put up an ad and you could be receiving clicks and visitors to your website within the hour! PPC is also a perfect tool for testing a market before you commit to large budgets and months of time as other marketing channels can take a while to start gaining traction.
We create ads for maximum click throughs

We analyse your ad performance every day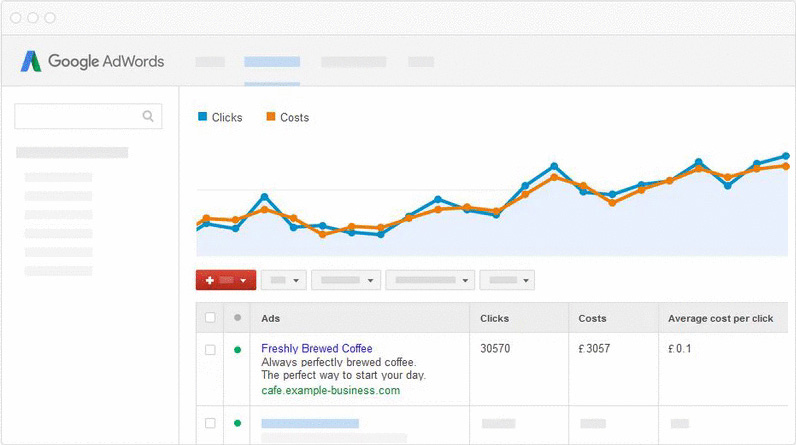 Choosing the right keywords
Correct keyword selection for your campaign is paramount. We will carry our extensive keyword research prior to setting up your ads to make sure we are targeting the best audience and locations for your product or service.
Crafting the perfect advert
Writing catchy headlines and engaging copy with limited character space is an art in itself and can be the difference in a campaign succeeding or flopping. We will use our extensive PPC experience and our writer's creative flair to produce ads that will stand out above your competition, catch the eyes of potential clients and pull in traffic.
Split testing
Creating multiple ads and displaying them in rotation will give you tangible data on what is working and what isn't. Ads that are performing the best are kept and the lower performers are paused. We constantly go through this procedure to fine tune your adverts so we quickly figure out what is working and display only the very best performing ads.
Managing the spend
When a pay-per-click budget is not managed properly it can easily spiral out of control. We will constantly monitor your daily spend and ad performance to achieve the most amount of targeted clicks and the best return for your budget.
Reporting
If you can't measure it you can't improve it! Every month you will receive a report on how your ads are performing including click through rates and costs per click. We add Google analytics as standard so you will be able to login to your account and monitor your daily visitors and their interaction with the website.
Re-marketing
If you didn't convert the visitor into business the first time they visit your website re-marketing is a great way to put your ad in front of the client again and remind them of your products or services. We can setup re-marketing campaigns to make sure you give the potential client a further opportunity to become a lead or buy your services.
 Pay-per-click (PPC) packages