So who are Gent Digital, and why should you invest in us?
Gent Digital have over 25 years experience in the design and online marketing industry and whilst working with hundreds of clients in many different industries we saw the need for a complete local marketing solution. Many business owners we dealt with seemed confused by the ever increasing amount of advertising channels, how to use them and what would actually work for their business. Gent Digital now offer the perfect solution.
Welcome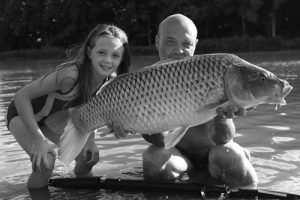 The company is owned and run by myself, Nick Gent. A bit of background about me – I love the outdoor life and spend most of my free time by a lake fishing or walking in the countryside with my family, dog and three kids.
My post high school education was studying graphic design at art colleges in Surrey and London. After graduation I ventured out into the scary wide world of freelancing in town with various advertising agencies. This was exciting at the time and I had plenty of work but after a few years of doing long hours, commuting and seeing the agency fat cats pulling in all the money I thought I needed to step things up a bit. Around this time the internet was just starting to become a reality and shortly afterwards print design started to decline as more advertising budget was being spent online so I started to learn web design and coding, this was a massive change at the time as I wasn't very technically minded but I persevered, read all I could find and started to build more and more websites and my coding skills went from strength to strength.
Online marketing was the next obvious step. Google was just starting to become the giant that it is now and I quickly realised that I needed my sites ranking in the search engines so again I read everything I could about pay-per-click advertising and search engine optimisation and tested, tested and tested until I got results. In those early days SEO was much simpler than it is today and there was a lot less competition and I soon had sites ranking on page one for some very big search terms.
Over the years Google has made it much tougher but I like to think myself and my team are at the forefront of what is working in SEO today as we have conquered all the Pandas and Penguins (Google algorithm updates) and we still getting our clients massive amounts of traffic from page one positions today.
Helping start-ups seemed to give me the most customer satisfaction and I love it when someone comes to me with a new idea and we help turn it into a reality, it became clear that I should start up an agency focused on helping local businesses online, so Gent Digital was born.
If you invest in us I will do all I can personally to see your idea succeed. I will be your main contact and you can give me a shout whenever you need me. Feel free to connect on LinkedIn and Facebook (if you don't mind me boring you with fishing pics!) I hope to meet you soon.
Expert team
With many contacts in the business we set about creating a team of expert marketeers with combined skill-sets in web design & development, SEO, social media, and paid advertising to join forces, exchange ideas and create the one-stop-shop service for all your online local marketing needs. Our aim was to take away the client's confusion of the industry and their need to deal with multiple budgets and service providers.
Exceptional service
Since conception, our service has gone from strength to strength and our clients are achieving amazing success by exploiting multiple marketing channels and generating massive amounts of new targeted traffic and leads. The saying… 'Don't have all your eggs in one basket' rings true with online marketing and by using this methodology we gain extensive knowledge of the client's industry and the various revenue streams each platform offers.
We work with you
With every new client that invests in us we take the time to understand your business and how it ticks. We are friendly, try to stay jargon free and happy to answer any questions or queries you may have. We will work closely with you to create an online presence that portrays your company professionally and effectively. Our work will be delivered on-time and we'll keep you updated on the progress every step of the way.